6 Guarantees for your Peace of Mind
At Advantage Learning we promise to provide the highest level of training and service to help you gain your PRINCE2, PRINCE2 Agile, MSP, MoP or Better Business Cases certification. We not only stand behind this promise but we tell you what it means by clearly spelling it out for you.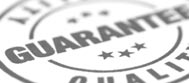 "You are investing your money and time in your future, we are happy to guarantee your training at absolutely no risk to you!."
Guarantee 1: Pass BOTH your Foundation and Practitioner Exams First Time or resit the Training for Free
You will pass your Foundation AND Practitioner exams at the first attempt or you can resit the training for FREE. If you don't pass at the first attempt you can retake your full course again at no charge. Your Foundation exam retake is also Free and a Practitioner exam retake is charged at cost price. You must retake the training within 6 months of your original course and pay the accommodation charges for the venue. These are also charged at cost price.
Guarantee 2: PRINCE2 is never cancelled
We have NEVER cancelled a public PRINCE2 course – there are no minimum numbers. We have kept this promise to you since 2003, running over 150 public courses as scheduled. If you are the only student booked on a course, it will run. You have booked the course in good faith, scheduled your time to attend – so you don't need a call 1 week before saying "sorry, we are not making a profit". That is our problem, not yours! *
Guarantee 3: Proper Preparation: Official Manuals sent BEFORE your course starts
Proper Preparation is essential. Our students have high pass rates because their official manuals and materials are sent to them the day they book the course. You don't want to turn up and have to read 400 dense pages in a week so Advantage will courier you the official PRINCE2, MSP, MoP or any manual on the day you sign up. You can prepare well in advance of the course and arrive ready to focus on passing your exams.
If you have any questions while working through the pre-course materials you can email us and receive a personal answer from one of our Approved Trainers.
Guarantee 4: Small Classes
No more than 12 Practitioner students on any public course. You need time to ask questions and your Approved Trainer needs time to check your progress. We minimize the numbers attending our courses to maximize your chances of exam success.
Guarantee 5: You Get an Expert Trainer
Advantage Approved Trainers are world leading experts in their subject. They have years of experience and teach constantly, so they know the subject inside and out. Our Trainers include former Examiners, APMG Registered PRINCE2 Consultants and practising project and programme managers. We carefully screen and prepare our instructors so that you only get the Best!
Guarantee 6: 100% Satisfaction
If you are not happy with your training, for any reason, tell us within 5 days of attending your course. We'll work with you to make it right. If we can't, you can keep all your materials including the official Manual, accredited course materials and certificates absolutely free.
---
* The only small print: our Exam, Class size and Never Cancel guarantees are available for PRINCE2 Foundation and Practitioner courses in Edinburgh and Glasgow