About Advantage Learning
Advantage Learning is a specialist training provider. We are dedicated to assisting organizations to deliver their projects in time, on budget and to the quality required, through training in best practice project and programme management.
Here are some of the reasons for using Advantage Learning:
Training from Best Practice Specialists
At Advantage Learning we specialise in best practice training. We deliver hundreds of days of training every year. You learn from industry experts whose business depends on excellence in their core area.
Expert Trainers
You need a trainer who knows the material backwards and has used what they are teaching to deliver their own projects and programmes. Our trainers have years of real life project and programme management experience. On average, our core training team each delivered over 30 courses in the last 12 months. They will give you lots of practical tips and advice to help make the theory work for you in real life.
Small Classes
Best practice training is intensive - you have a lot to cover in a short space of time. So we limit course numbers to give you plenty of time to ask questions in a relaxed atmosphere. Your instructor also has time to check everyone's understanding and progress.
Central location
Public courses are held in city centre locations. You will be within walking distance of transport connections, a taxi rank and, if required, car parking or your hotel. This means you spend less time worrying about the daily grind and more time studying for your qualifications. All our UK locations are open from 08:30 – 18:00 so you can use the classroom as your study place before and after training.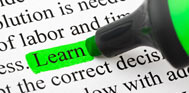 "Advantage Learning is a specialist provider of Best Practice training."